FILE SERVERS – THE BACKBONE OF THE NETWORK
File servers are not just a network repository for the company's files. Unlike their name suggests, File Servers provide critical infrastructure services to ensure communication and interoperability between desktops, printers, and other resources found within the network.
System administrators can sometimes disregard best practices when problems arise – surfing the Internet from a critical server looking for system utilities or security tools to fix a critical issue, invariably infecting the server with unwanted spyware, adware, a Trojan or a virus. Worms can also propagate throughout the network and infect a Server without warning, and unless protected, the critical network services they provide will become unavailable to user community – greatly impacting the company's productivity.
Companies can protect their File Server deployments from attack by using BitDefender's ability to scan for malicious code in files, maintain system integrity, help ensure compliance to corporate security policies and prevent sensitive data from being distributed outside of the organization.
BITDEFENDER SECURITY FOR FILE SERVERS
BitDefender Security for File Servers is a data security solution especially dedicated to Windows- based servers. Easy to install, configure and manage, it effectively offers world-class protection from viruses, spyware and rootkits, while lowering the burden of administrating a server software solution.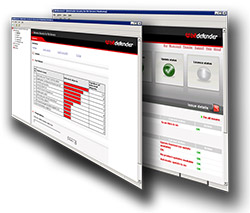 SECURING FILE SERVERS WITH BITDEFENDER
BitDefender Security for File Servers provides a number of features targeted towards the small and midsize businesses.
THREAT DETECTION AND PREVENTION
File and system level virus detection, cleaning and quarantine
Scans all files, including compressed files for viruses, spyware and rootkits
Custom antivirus scanning profiles (high, medium, low, custom ) to allow improved flexibility
Quarantine infected or suspected files, minimizing risk of propagation
Safely restore quarantined files to original location once verified
OPTIMIZED PERFORMANCE AND STABILITY
Multi-threaded architecture creates parallel instances of scan engine, minimizing processing time and impact
Session based scan optimization reduces performance impact by scanning files once unless accessed again
Integrates with BitDefender's Management platform for centralized Gateway, Endpoint and Server administration
Centralized dashboard provides deployment status overview with alert thresholds
DEFENSE IN DEPTH
BitDefender Security for File Servers is just one element in a comprehensive suite of solutions providing end-to-end protection from the gateway to the desktop. BitDefender's proactive, multi-platform products detect and stop viruses, spyware, adware and Trojan threats that can compromise your network integrity.
Need assistance?
Contact us at [email protected]